HAPPY HOLIDAYS! ️
We are grateful to our soldiers and medics, people and companies, partners and friends, who side by side with us at these challenging times of war and pandemic help return to fullfilling life severely injured, traumatised, but invincible defenders of Ukraine.
In 2021 we have been able to do the following with such reliable continuous support and generous donations of people and companies.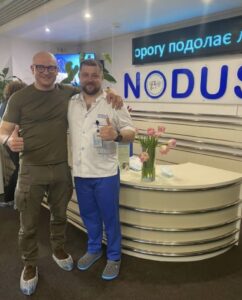 "Kran" Charitable Fund paid 1 075 626,50 UAH for restorative treatment & tailored rehabilitation of 6 people (ATO combatants, public activists, father of two sons – ATO soldiers, ATO volunteer) in the framework of the Nodus Charitable Project.
On 18 February 2021 G-EO System Evolution gait rehabilitation robotic-assisted device was launched at Nodus Clinic to restore natural walking to gravely wounded, traumatised defenders of Ukraine. This Dream came true through fundraised donations made by women and socially responsible companies, who supported the "BE Powerful at 300 W(omen)" charitable project.
Oksana Karavanska, a well-known Ukrainian designer, in partnership with "Kran" held an amazing social fashion show at Unit.City on 20 May.
We have supported brave medics, combating COVID-19, by procuring personal protective items for Nodus staff to protect them in their daily selfless work with patients under dangerous circumstances of the unrelenting pandemic. This life-protecting donation was made possible with the generous support of 75 102,20 UAH by Acer.
"Kran" together with partners had the opportunity and the honor to help maintain the first computer class for tactical medicine classes at the Yaroslav the Wise School of Tactical Medicine "Desna" in the framework of the Nodus Charitable Project.
Our Special Thanks to Olesya Kirylchuk, Olga Tkachenko for constant help and support, Artem Polishchuk and Artem Mishchenko for their professional support of the "KRAN" Charitable Foundation's activities.
Our immense gratitude and admiration are to the "Nodus" team.
No words can express our deep gratitude to ALL partners of the "KRAN", reliable, efficient, caring, brave and responsible people, the Ukrainian women who turned an incredible Dream into reality!
These hard times harden and unite us into a steel circle of people who care about Ukraine, for Ukraine, that our Warriors will stand for to the very end!
Health and Joy in 2022! Victory! ??
Support now - anyone can help
Quick Donate with Portmone